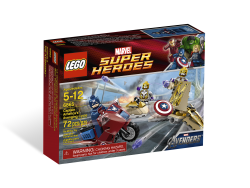 6865 Captain America's Avenging Cycle
is a [[
Marvel
]]
Super Heroes
set released in
April
[[
2012
]]. It includes the Avenging Cycle, a gunner station, and a spacecraft along with the minifigure of
Captain America
, a
Alien Foot Soldier
, and a
Alien General
. It is based on a scene from
The Avengers
.It costs 12.99 and has 72 pieces.
This set is made up of three parts: Captain America's Avenging Cycle, a gunner station, and a spacecraft.
Captain America's Avenging Cycle: The front has a blue light and clear light near the handlebars, Above the head lights there is the S.H.I.E.L.D. logo on a blue circle surronded by red, white and blue stripes. On the sides, there is his shield logo, light blue vents, and a clip to put his shield on.
Gunner Station: It is made up of slopes and contains one trans purple flick fire missle for the Alien Foot Soldier.
Spacecraft: A glider that includes one trans purple flick fire missle for the Alien General. It has armour in front of the steering section where the General can stand. It has movable wings on each side with weapons.
The Alien General and Captain America in his Avengers variant are exclusive to this set.
It doesn't include a "comic adventure" unlike the rest of the Marvel sets, but similar to the case with 6858 Catwoman Catcycle City Chase, a comic based on the set is included in the other Marvel comics and at the back of the instruction book.
It is the smallest set in the entire Super Heroes theme out of both the DC and Marvel sets.
Ad blocker interference detected!
Wikia is a free-to-use site that makes money from advertising. We have a modified experience for viewers using ad blockers

Wikia is not accessible if you've made further modifications. Remove the custom ad blocker rule(s) and the page will load as expected.