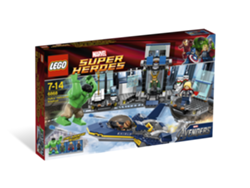 This set includes a portion of the Helicarrier where there is a glass cell for holding Loki. Above Loki's holding cell is a command center with two blue chairs, two computers and a glass widow. On the left side there is a hanging computer and studying area for Loki's staff, there is also a computer stand next to the staff studying area. On the right side of Loki's holding cell is flickable fuel tanks that are Red, Green, White and Grey for The Hulk, there is also a flat transparent piece. The jet has "cockpit blast function" as well as the cockpit opening, there is also flick-fire missiles below the wings. The wings have two flat pieces on them that have the S.H.I.E.L.D logo on them. It includes four minifigures:Thor,Hawkeye,Loki,and Hulk.It costs $49.99 USD and has 389 pieces.
This set includes a "Comic Adventure."
One of the computer screens has Galaga on it that reprisents the S.H.I.E.L.D agent in the movie.
The Hulk in his Avengers variant is exclusive to this set.
themes.
The fuel canisters resemble Octan Oil from the Town and City themes.
There is a computer screen that shows a diagram of the Cosmic Cube, although it's not included with this set. It only comes in(6867 Loki's Cosmic Cube Escape)
It is based on Bruce Banner's lab in the Helicarrier
Ad blocker interference detected!
Wikia is a free-to-use site that makes money from advertising. We have a modified experience for viewers using ad blockers

Wikia is not accessible if you've made further modifications. Remove the custom ad blocker rule(s) and the page will load as expected.