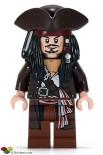 Pirates of the Caribbean is a theme based upon the original Pirates of the Caribbean movie trilogy and the fourth installment, Pirates of the Caribbean: On Stranger Tides. The first wave of set were released in April of 2011 and the second will be released in November. The theme consists of nine [Set]]ts covering all four movies and includes [[LEGO Pirates of the Caribbean: The Video Game, developed by TT Games in the same format as LEGO Star Wars II: The Original Trilogy|LEGO Star Wars. All sets (excluding key chains, magnet sets and promotional sets) include a Pirates of the Caribbean poster.
The theme was officially announced by LEGO on November 18 2010; however, during July's San Diego Comic-Con International, a Jack Sparrow minifigure had been inserted into LEGO's Prince of Persia display as a teaser.
The Pirates of the Caribbean license was held by Mega Bloks in 2006/07.
Although the press release stated that the nine sets would cover all four films, none of the sets are specific to At World's End.
It is the only theme to have some pirate minifigures other than Pirates.
2011:
Combiner sets:
Product Collections:
Clocks/Watches
Battle Packs
Minifigures
Edit
2011:
Video Game Only Minifigures:
Minifigures Included
Edit
Write the text of your article here!
Included with several Pirates Of the Caribbean sets are codes which are used online on the LEGO Pirates of the Caribbean page. These codes are very special and can only be used a total of three times. The cards with the codes are only in the five Pirates of the Caribbean: On Stranger Tides sets.
Cite error: <ref> tags exist, but no <references/> tag was found
Ad blocker interference detected!
Wikia is a free-to-use site that makes money from advertising. We have a modified experience for viewers using ad blockers

Wikia is not accessible if you've made further modifications. Remove the custom ad blocker rule(s) and the page will load as expected.